Pool house for 9 pers. on the east coast by Hou/Hals
Northeast coast, Hou, Hals
>
Hou
Luxus holiday home - No.: 1828
Lovely cottage in beautiful surroundings with a swimming pool by Hou in Jutland out to the East Coast

The house is 133 m2, large living room-kitchen-dining room, 3 bedrooms, respectively. 2 double beds and a bunk bed, and a large loft with 120 bed and Mattress, seats on the loft suitable probably best for the familys youngest members. Two bathrooms and of course a pool room with pool, hot tub and sauna.
The house is bright, modern and practically furnished and here are all the modern necessities that you might expect in a holiday home.

The house is located in a neat and well-kept garden plot and for children and young at heart, there are swings, slide and sandbox. The houses large terraces there is ample space for relaxation and play - and of course the grill is used frequently.

The house is located on the outskirts of the small, cozy holiday town, Hou that offers shopping, restaurants, a pretty little marina and generally a relaxed and cozy atmosphere. Not far from Hou lies Hals, which offers even more possibilities of the aforementioned. Also Hals has a marina down to the fjord, where you can sit and enjoy a cool drink in the sun and watch the big ships from time to time slipping from Kattegat and into the fiord. Only about 25 minutes from the house is the city of Aalborg, where cunningly can enjoy yourselves with hours of shopping, shopping, eating at restaurants, visit Aalborg Zoo and just take the big city ambiance.
Allgemein:
• Housesize 145 m2 • Build in 2003 • Modernized in 0 • Ground size0 m2 • 2 toilets • 3 bedrooms • (2 x Doubble bets,3 x Single bets,1 x Bunk bets) • Smoking not allowed • Pets allowed Wheelchair friendlyFiber Internet
Wellness:
Floor heating bathroom, Floor heating kitchen-dining room, Floor heating entire house, Sauna, Steam bath, Spa indoor, Swimming pool indoor
Multimedia:
Free internet, TV, Satellite TV, Danish DR1, Danish TV2, German TV channels, DVD player, CD player, Radio
Activities for children:
Baby high chair, Baby cot, Swing, Sandpit
Other activities:
Outdoors:
Terrace, Garden furniture, Parasol, Coal grill, Carport
Kitchen equipment:
Dishwasher, Washing machine, Dryer, Refrigerator, Electric cooker, Cooker hood, Microwave, Freezer, Icebox, Electric kettle, Coffee maker, Toaster, Vaccuum cleaner
Security equipment:
Heating / Cooling:
Year round insulated, Woodburning stove, Oil central heating
Information
Persons:
9
Sleeping rooms:
3
Pets allowed:
Yes
Swimmpingpool:
Yes
Wifi:
Yes
Dishwasher:
Yes
Tv:
Yes
Distance sea:
1000m
Distance shopping:
1000m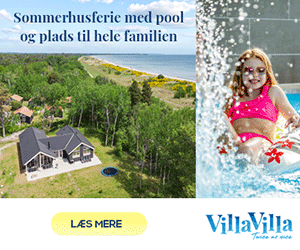 Calendar:
DECEMBER 2023
M
T
W
T
F
S
S
1
2
3
4
5
6
7
8
9
10
11
12
13
14
15
16
17
18
19
20
21
22
23
24
25
26
27
28
29
30
31

= Occupied
Last updated: 25/11/2023
Prices:
| | | | | |
| --- | --- | --- | --- | --- |
| Rental period | Arrival | Price per week | Price per day | Price weekend |
| 31.12.2022-25.03.2023 | Saturday | 467 EUR | - | - |
| 25.03.2023-01.04.2023 | Saturday | 533 EUR | - | - |
| 01.04.2023-08.04.2023 | Saturday | 626 EUR | - | - |
| 08.04.2023-15.04.2023 | Saturday | 533 EUR | - | - |
| 15.04.2023-29.04.2023 | Saturday | 467 EUR | - | - |
| 29.04.2023-24.06.2023 | Saturday | 533 EUR | - | - |
| 24.06.2023-01.07.2023 | Saturday | 1,000 EUR | - | - |
| 01.07.2023-08.07.2023 | Saturday | 1,133 EUR | - | - |
| 08.07.2023-05.08.2023 | Saturday | 1,400 EUR | - | - |
| 05.08.2023-12.08.2023 | Saturday | 1,267 EUR | - | - |
| 12.08.2023-19.08.2023 | Saturday | 1,133 EUR | - | - |
| 19.08.2023-26.08.2023 | Saturday | 1,000 EUR | - | - |
| 26.08.2023-14.10.2023 | Saturday | 533 EUR | - | - |
| 14.10.2023-21.10.2023 | Saturday | 626 EUR | - | - |
| 21.10.2023-04.11.2023 | Saturday | 533 EUR | - | - |
| 04.11.2023-16.12.2023 | Saturday | 467 EUR | - | - |
| 16.12.2023-23.12.2023 | Saturday | 626 EUR | - | - |
| 23.12.2023-30.12.2023 | Saturday | 1,267 EUR | - | - |
| 30.12.2023-06.01.2024 | Saturday | 1,133 EUR | - | - |
Arrival:
Saturday
Cleaning:
175 EUR
Deposit:
400 EUR
Rental terms:
Öl heizen kosten 6 euro für ein bar Wasser pro woche 35 Euro
Guest Book:
Submitted reviews from previous visitors:
"Dejlig sommerhus " - Reviewed by Henrik & Charlotte - March 2017