Falster, Marielyst
>
Marielyst
Large estate - No.: 7644
Allgemein:
• Housesize 236 m2 • Build in 1996 • Modernized in 2020 • Ground size1575 m2 • 1 toilets • 6 bedrooms • (4 x Doubble bets,4 x Single bets,1 x Bunk bets) • Smoking not allowed • Pets allowed
Wellness:
Floor heating bathroom, Sauna, Spa indoor, Swimming pool indoor
Multimedia:
Free internet, Wireless Internet (WiFi), TV, Cable TV, Danish DR1, Danish TV2, Other danish TV channels, Norwegian TV channels, Swedish TV channels, German TV channels, Dutch TV channels, English/American TV channels, French TV channels, Spanish TV channels, DVD player, Video player, CD player, Radio, Middle East TV channels
Activities for children:
Baby high chair, Child bed, Child chair, Swing, Sandpit, Slide, Trampoline
Other activities:
Billiards/Pool Table, Foosball, Ping-pong indoor, Airhockey, Darts, Toys for outdoor use, Football goal (soccer)
Outdoors:
Terrace, Garden furniture, Sun lounger, Parasol, Coal grill, Drying rack
Kitchen equipment:
Dishwasher, Washing machine, Dryer, Refrigerator, Electric cooker, Cooker hood, Microwave, Freezer, Electric kettle, Coffee maker, Vaccuum cleaner
Security equipment:
Smoke detector
Heating / Cooling:
Heat pump, Solar panels, Woodburning stove
Information
Persons:
14
Sleeping rooms:
6
Pets allowed:
Yes
Swimmpingpool:
Yes
Wifi:
Yes
Dishwasher:
Yes
Tv:
Yes
Distance sea:
350m
Distance shopping:
400m
Vermieters Webseite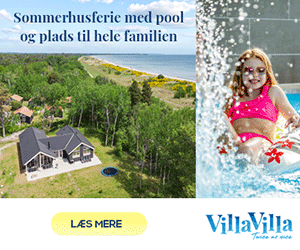 Calendar:
DECEMBER 2023
M
T
W
T
F
S
S
1
2
3
4
5
6
7
8
9
10
11
12
13
14
15
16
17
18
19
20
21
22
23
24
25
26
27
28
29
30
31

= Occupied
Last updated:
Prices:
Rental period
Arrival
Price per week
Price per day
Price weekend
Contact the home owner for rental prices.
Arrival:
Saturday
Weekend rental:
Yes, in some periods
Rental single days:
Yes, in some periods
Cleaning:
0 EUR
Deposit:
0 EUR
Guest Book:
Submitted reviews from previous visitors:
No review has been written in the guest book yet. If you have previously rented this holiday home, be the first to write a small greeting. Your input can be of great help to both the landlord and future tenants.